April 29 1951
February 18 2001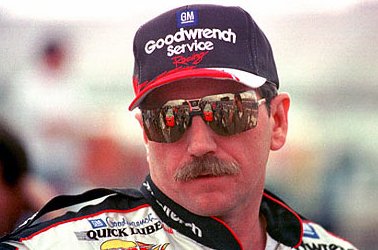 A Tribute to the Man in Black
*~*~*~*~*~*~*~*~*~*~*~*~*~*~*~*~*~*~*~
The Heaven 500, was just getting started,
an All-Star race, for the racing departed.
Heroes of the track, with nerves like steel,
and sitting on the pole, was a cat named Neil.
Adam Petty was there, with his beautiful smile,
Kenny Irwin determined, to finish in style.
Lee Petty was glowing, with that Grandfather pride,
with Davey & Clifford, both in a new ride.
Fireball Roberts, floated in on a cloud,
while Tony Roper waved, to the Heavenly crowd.
Morosso & Nemecheck, then Tim Richmond appeared,
Al Kulwicki strapped in, while the racing fans cheered.
The honorary starter, for this Heavenly race,
Ralph Earnhardt was chosen, a tear on his face.
But the red flag flew, just before it had begun,
and every eye, was open wide, and looking to the SON.
A last minute entry, was the cause of delay,
while the fans were instructed, to kneel and to pray.
The Heavens turned black, and the clouds turned dark,
the lightning was brilliant, the thunder did bark.
Then out of the rumble, for all there to see,
the clouds formed a number, a black number three.
The Heavenly fans, then erupted with pride,
and welcomed this star, who had recently died.
With a bolt of lightning, Dale Earnhardt arrived,
as he stood before Jesus, his spirit revived.
Jesus hugged his precious child, then revealed his perfect plan,
"I brought you home, to let you know, that I'm your biggest fan!"
"The Intimidator was needed, for this Heavenly race,
leaving all of your earthly fans, with honor & with grace."
Ralph Earnhardt then stepped forward, embracing his son,
then whispered in the ear of Dale, "Let's go and have some fun!"
As Ralph stood proud, the green flag flew,
the crowd went wild and the tension grew.
And just like Salvation, the admission was free,
as every eye focused, on the black number three.
When the checkered flag dropped, no dry eyes remained,
it was a photo finish, as Jesus explained.
He said, "There are no losers, on this Heavenly track,
this was a welcome home party, for The Man In Black!"
"unknown author"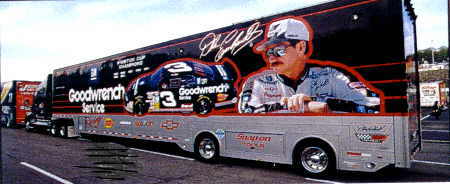 Dale Earnhardt Highlights


1975 Made stock-car racing debut May 25, finishing 22nd in the World 600 at Charlotte Motor Speedway.
1979 Earned first victory on April 1 at Bristol, Tenn; Won Rookie of the Year Award.
1980 Won first Winston Cup Championship, becoming only driver to win Rookie of the Year and season championship back-to-back.
1986 Won five races to take second Winston Cup Championship.
1987 Won 11 races for third Winston Cup Championship, finishing in top five 21 times in 29 races.
1990 Won nine times to take fourth Winston Cup Championship, earning a then-record $3,083,056.
1991 Won four races for fifth Winston Cup Championship.
1993 Won six races to earn sixth Winston Cup Championship.
1994 Won seventh Winston Cup Championship, tying Richard Petty for most career titles. Topped $3-million mark in earnings for third time in five years.
1996 Became third driver to start 500 consecutive Winston Cup races.
1997 Became first driver to reach $30 million in American Motor Sports winnings and first race car driver to appear on box of Wheaties Cereal.
1998 Won first Daytona 500 in 20th career start, breaking a 59-race winless streak overall. Finished eighth in season standings, his 18th top 10 finish in 20 years.
1999 Won 10th consecutive Twin 125 qualifying race at Daytona.
2000 Won Winston 500 on Oct. 15 at Talladega Superspeedway for final career victory.

Career Pole Positions: 22. · Career top 5 finishes: 268. · Career top 10 finishes: 404. · Winston Cup Championships: 7 (1980, '86, '87, '90, '91, '93, '94). · IROC Championships: 3 (1990, '95, '99). · American Driver of the Year: 2 (1987, '94). · Won record nine races at Talladega Superspeedway. · Owns record 34 victories in all forms of racing at Daytona Speedway.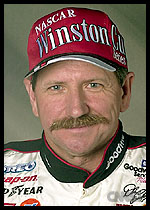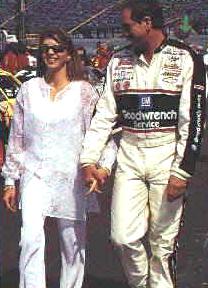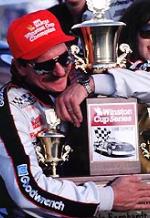 Teresa and Dale
Date of Birth: April 29,1951
Height: 6'1''
Weight: 201 lbs
Hobbies: Boating, Fishing, Hunting
Resides: Mooresville, NC
Hometown: Kannapolis, NC
Wife: Teresa
Children: Kerry Dale - Kelley King - Ralph Dale, Jr. - Taylor Nicole

If you have a web page let me know I will gladly link up to yours. E-mail me here


[ view my guestbook ] [ sign my guestbook ]


---
This page was last up dated on March 8, 2002
web design by TEX2888 Beyond 2000 Nascar Racing®

---